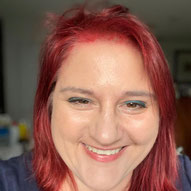 In my coachings, I serve those who are willing to being served from a space of authenticity, integrity and pure love - for the highest good of all .
It is an honour to accompany and guide you. So much love to you!
Warrior Goddess VIP Mastermind
Program starts on 16 August 2021
In this 3 months program, you will discover your inner warrior and your inner goddess.
It is designed to align and balance these energies to become the best version of yourself, and to attract love, abundance, prosperity and success into your life.
In the program, you will not only learn about how to
- integrate your divine masculine and feminine,
- shift from different personas and
- get to the root of the things that are still triggering you.
We will also look into practical magickal tools that are easy to integrate into your busy life, such as the
- use of incense to clean out stagnant energies,
- use of crystals and everyday magick to boost and anchor in your new beliefs and patterns.
In the program, you will get a weekly video lesson plus one zoom meeting with me every week. The number of participants is very limited, to keep the circle small and individual.
Send me an email, to see if you qualify:
The simple, yet effective "The Calm Mom Method" that teaches you to set boundaries for your children and spouse WITHOUT HAVING TO manage it all  by yourself.
 You will learn why doing it all by yourself and working yourself to complete exhaustion does not work (and the much easier methods that allow you to get the support you deserve from your family).
Are you dreading every day to open your teenager's bedroom door and come home to complete chaos?
Forget about the tricks you were told to keep the peace, or the well-meant advice given by your own parents or friends that have not walked in your shoes. Instead, you're about to find out about overlooked secrets which DO make it easy to set clear, loving boundaries and have enough energy to be there for your family and have time for quality time.
The breakthrough strategy that is great if you have already tried all kinds of self-help books on family, manage it all on your own or even going to some form of therapy, just to be able to stop yourself from falling asleep over dinner.
So if you finally want to learn how to overcome this enormous heap of almost unmanageable tasks, book a free call with me.
Here's the link: 
https://www.picktime.com/RiseUpCoachingMonikaKorba 
Looking forward to talk to you and sending you so much love.
Monika Korba
Are you an overwhelmed mom who wants to learn how to set clear and loving boundaries? Are you unhappy with your job, your relationship, do you have issues with your teenage children or are you afraid of your future,  especially in the current situation? Are you looking for a way to change the situation?  In this free discovery call, we will create a blueprint of your issues and you will learn more about my method. This 60 minutes call is free and without any further obligations for you. You will get some tools to interrupt your patterns and will get a first impression about me and my methods as a coach.  
Our call will be via the internet and is absolutely without any further obligations for you. My intention is to help you, in the highest good of all.
I look forward to a first virtual meeting with you!
Sending you so much love.
Monika Korba
PS: To book your call, click here.
You believe, you will never get out of the current crisis? The road ahead is blurred and unclear? Are you unhappy in your professional, private or married life because you seem to be repeating the same useless patterns and behaviours? 
If you want to recognize the blocks that are stopping you and are making your life worse, book a coaching session with me.
I will help you see more clearly and change these subconscious programming to help you get the life you are dreaming of.
Each coaching session is always tailored to you and your specific needs.
Together, we will look at how I can serve you in your current situation and we will find a way to shift the patterns that keep you stuck in a particular situation.
Price per session: USD 180.-
Looking forward to serving you in the highest good of all.
Sending you so much love.
Monika Korba
This package of 4 or 8 sessions is designed to help you dig deep to your roots and find out all the old patterns that do not serve you anymore. 
You will learn how you can shift these patterns to become the beautiful, loving being you have always been.
4 sessions: USD 775.-
8 sessions: USD 1,500.-
Sessions are held via videocall.
It is my honour to serve you!
---
Terms and conditions
The price for a one-on-one session is USD 180.-; for a remote healing for humans  USD 120.- or remote pet healing USD 100.-
In general, advance payment applies.
Since every person is unique and has very individual needs, each session is different and tailored to the current needs of the client. Some issues can be completed within one session, others consist of several sessions. 
If you would like to know more, write to me or call me, I will be happy to give you detailed information.
For Swiss clients, if you have an alternative medicine supplement in your health insurance, please check with your health insurance company to see whether they cover part of the costs.
You will receive a receipt from me after the session to submit to your health insurance.
---
To book a call, please use this link:
https://www.picktime.com/RiseUpCoachingMonikaKorba 
To book a one-on-one session, send me an email.
Last update:  8th April 2021
All rights reserved.